Gel de Peyote Original Reforzado para Dolores Musculares, Mariguanol pomada : Reinforced Original Peyote Gel for Muscle Pain, glucosamine chondroitin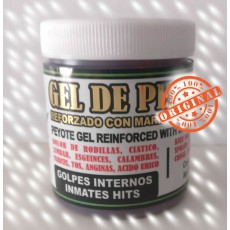 Product Code:
PEYOTE-125g
Peyote is a small, spineless cactus with psychoactive alkaloids, particularly mescaline. Peyote is a Spanish word derived from the Nahuatl peyōtl, which means "caterpillar cocoon", from a peyōni root, "to shine." Peyote is native to Mexico and southwestern Texas.
What is Peyote for?
Peyote is said to be a miracle product, a naturopathic remedy to treat problems such as:
Muscle pain
Cooldowns
Rheumatism
Arthritis
Sciatic nerve knee pain
Low back pain
Ankle sprains
cramps
varicose veins
Cough
Anginas
El peyote es un cactus pequeño y sin espinas con alcaloides psicoactivos, particularmente mescalina. Peyote es una palabra española derivada del náhuatl peyōtl, que significa "capullo de oruga", de una raíz peyōni, "relucir". El peyote es originario de México y el suroeste de Texas.
Para que sirve el Peyote?
Se dice que el peyote es un producto milagroso, un remedio naturista para tratar problemas como: 
Dolor muscular
Enfriamientos
Reumatismo
Artritis
El dolor de rodillas del nervio ciáticoe
El dolor lumbar
Esguinces de tobillo
Calambres
várices
Tos
Anginas 
There are no reviews for this product.