Arnika montana, Flor de Arnica : Arnika Mexican Herb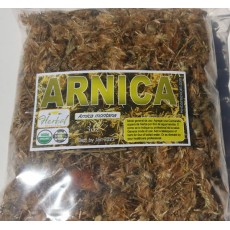 Arnica is a plant with many health benefits because it has anti-inflammatory, analgesic, healing, antiseptic, antibacterial, antimicrobial, antifungal and sedative properties.
In addition to being a natural external anti-inflammatory, it helps to relieve bumps, arthritis, tendonitis and skin problems.
Arnica benefits:
Reduces the pain, inflammation and stiffness of arthritis.
Relieves pain from bruises.
Prevents the appearance of bruises.
Accelerates the recovery of sprains and dislocations.
Relieves neural and joint pain
rheumatic and muscular.
Reduces the sensation of pain in cases of frostbite.
Regulates oil on the skin and scalp with seborrhea
Prevents alopecia.
As an infusion or tincture mouthwash helps maintain optimal oral health.
Relieves vaginal itching.
El Arnica es una planta con muchos beneficios para la salud porque tiene propiedades antiinflamatoria, analgésica, cicatrizante, antiséptica, antibacteriana, antimicrobiana, antifúngica y sedante.
Ademas de ser un antiinflamatorio natural externo  este ayuda  a aliviar golpes, artritis, tendinitis y problemas cutáneos.
Beneficios del Arnica:
Disminiye el dolor, la inflamacion y la rigidez de la artritis.
Alivia el dolor de contusiones.
Previene la aparicion de Hematomas.
Acelera la recuperacion de esquinces y luxaciones
Alivia dolores neuronales, articulares
Reumaticos y musculares.
Reduce la sensacion de dolor en casos de congelacion.
Regula la grasa de la piel y cuero cabelludo con seborrea.
Previene la alopecia.
Como enjuagues bucales en infusion o tintura ayuda a mantener una salud optima.
Alivia el picor Vaginal.
There are no reviews for this product.